eGecko2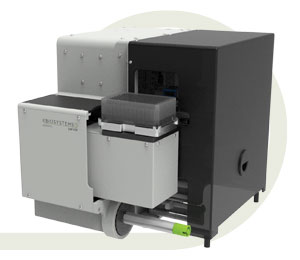 Automated SBS and Petri dish barcode applicator
The eGecko2 barcode applicator utilises a robust and proven custom designed label printer. The system is a completely integrated printer and application unit in one, requiring only an electrical supply. With easy swap head operation you can apply labels to flat and curved surfaces with one simple change.
Utilising proprietary software, this enables the creation of label position and the ability to run the eGecko
2
automation simultaneously. Integrated third party software, Bartender, is used to direct drive data to the printer. Alternative data can be used upon request.
Using a fully integrated PC, eGecko2 allows you to connect live to your network LIMs system to allow data transfer and validation of application label. Using the on board optional verification mode, you can print and verify all labels to ensure no unreadable labels enter your work flow.
Fully automated with own PC control
Individual internal generation of labels
Works directly with OEM label creation software via application card
Individual programmable macros stored in PC
Uses robust and proven label print engines
Electrical supply only

For pricing details, please email us by clicking the QUOTE icon above and we will get back to you.