Microplate handlers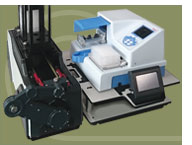 Our automated and semi-automated microplate handling systems offer ideal entry level automation for laboratories requiring reliable, consistent, microplate and tube handling.
The Scorpion range offers the user the ability to step up to automated microplate handling with a number of OEM liquid handling systems.
Offering complete versatility, the Scorpion will work with a wide range of microplates, tube racks, shallow and deep well formats.
More info...