PCR thermal cycler automated systems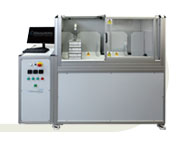 PCR thermal cycler automated system

Kbiosystems DT-24 thermal cycler automated system offers the ideal solution to high throughput single cycle PCR that automated laboratories demand for reliable, consistent plate and tube yields.
The DT-24 uses a three tank water bath system to create the desired temperatures for all steps of the PCR process. Our patented compression basket system allows the use of 96-, 384- and even 1536-well PCR plates to be cycled without changing the basket or modifying the heater blocks as is currently required in Peltier units. We use plate holders to maintain pressure and as a side effect of this, we have found that once cycled, the plates also remain flat for improved post-PCR operations. The compression basket also allows the use of adhesive or easily removable seal for multiplex type operations.
The DT-24 thermal cycling PCR system is an alternative way of carrying out medium and high throughput PCR protocols on DNA replication and incubation to micro well format plates.
Conventionally, Peltier heat transfer units have been used to carry out these operations, however, these can prove costly when trying to increase productivity throughput, and do not optimise the yield potential.
Reduced energy used by the systems
Cost of system change over between varying plates
Fully automated with own PC control
Individual setting of tank temperatures with full PID control
Works directly with plate and tape based assays
Individual programmable macros stored in PC
Both the 24 and the 108 have fully interchangeable drive to tank connections that allow adaptation of other devices
Area footprint of system
Increased yield of post-PCR product
Decreased cycle times
Easy to program and integrator friendly

Able to use multiple plastic ware manufacturer's plates across applications
Robustly engineered

For pricing details, please email us by clicking the QUOTE icon above and we will get back to you.