Ultravap Levante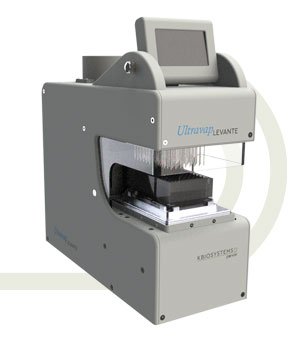 Blowdown evaporator
The Ultravap Levante is an ideal starter evaporator for the efficient concentration of samples. The standalone instrument is designed to consistently and reproducibly evaporate organic solvents from samples. Precisely engineered to ANSI/SLAS standard, the Ultravap Levante evaporator is designed to securely fit all microplate formats and tube racks for glass vials up to 45 mm.
Reproducible Evaporation: Advanced head technology for consistent hot gas injection in each tube and well
High Sample Throughput: Choice of 12-, 24-, 48-, 96- and 384 needle heads
Clean Concentration: System built to eliminate risk of cross-contamination
Three programmable steps per method
Five method storage
Maximum temperature 80C
Maximum flow rate 90 l/min
Ideal for sensitive samples: Bulk of sample remains at ambient, only the surface is heated
Intuitive Design: Slim and compact

For pricing details, please email us by clicking the QUOTE icon above and we will get back to you.