Ultraseal CAP-LITE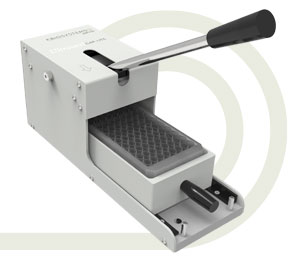 Manual microplate and tube rack cap and mat applicator
The Ultraseal CAP-LITE is the manual version of our semi-automated Ultraseal CAP-PRO. Pulling down on the sturdy hand pull applies friction sealing mats or septum sealing caps to SBS format tube racks. Simply place your rack or plate with its associated friction mat or septum cap web in the drawer, push it firmly shut and pull down the hand pull to seal.
The Ultraseal CAP-LITE offers a highly economical route into cap and mat application for laboratories running smaller throughputs.
Works with most commercially available septum cap mats
Works with 2D-coded and uncoded tubes in SBS-format racks
Handles friction and septum seals for 96-, 48- and 24-tube plates
Supplied with reversible plate shuttle for shallow or deep well plates
Alternative rack adaptors available to order

For pricing details, please email us by clicking the QUOTE icon above and we will get back to you.