UltraPPM LITE
SPE PRESSURE SYSTEM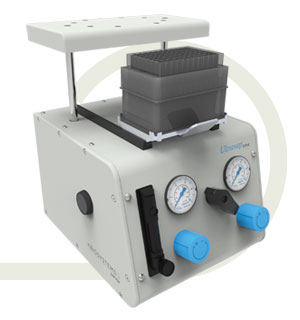 Positive pressure filtration system

The UltraPPM LITE is a positive pressure liquid displacement system, utilising adjustable two stage positive pressure manifold liquids, which can be passed through filtration plates into their component collection plate below.
This use of pressure rather than vacuum can allow a clean pass through from filter to collection plate.
Increase sample preparation throughput
Fine control of pressure and flow for high reproducibility
Compatible with wide range of 96-, 384-, 24- and 48-well plates
SPE, PLR, SLE, filtration applications
Simple, safe and reliable

For pricing details, please email us by clicking the QUOTE icon above and we will get back to you.