Firefly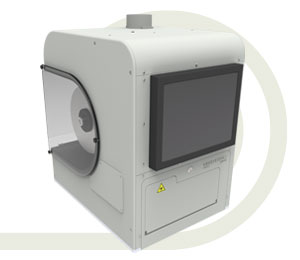 Heat sealer and laser cutting platform

The Firefly uses a fiber laser to generate a beam using a core laser source and amplify it in specially designed glass fibers, supplied with energy via pump diodes. With a pulsed beam width of 1um, the beam produces an extremely small focal diameter, making the intensity up to 100 times greater than conventional CO2 lasers. The Firefly is highly suited for absorbent materials for high-contrast plastic marking or cutting. The unit is maintenance-free and promises a long service life.
Designed for SBS format tube racks
Plates/tube racks can be pre-scored leaving minimal seal thickness to reduce tip/probe piercing pressures
Tubes can be individualised to allow random access in any format
Plate/tube rack heights with no adjustment from 7mm to 48mm high
Seal pierce operational compliant, allows plates to be stored fully sealed then pre-pierced to reduce tip damage
Auto plate/rack present, foil present and low air sensing
Plate density independent, 96, 384, 1536, 3456 and higher
Plates can be resealed and then re-pierced multiple times

For pricing details, please email us by clicking the QUOTE icon above and we will get back to you.